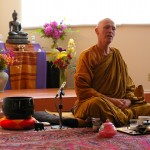 A primary source of my audio material is 'Dharma Seed'.  You can choose from three decades of recorded material on this  website:
Ajahn Sucitto's Dhamma Talks on Dharma Seed
Recent additions include a series of talks and meditations given on a weekly basis from Cittaviveka. There are also recordings of entire retreats, the latest of which are  a retreat on 'Clearing the Floods' and a session I shared with Willa Thaniya Reid called 'Love As The Breath of Life'.
Another source of ongoing presentations, mostly delivered to the monastic and support community is the Cittaviveka website: https://www.cittaviveka.org/featured-teachings
I am also presenting audio-visual material  on a regular basis via this website during the Coronavirus pandemic period.https://www.cittaviveka.org/video
Many of these are recordings of  online teaching occasions that I am holding. You can receive notification of upcoming sessions by subscribing to  Dhamma Tracks (https://ajahnsucitto.org )
Another recent development is a podcast, a serialized version of 'Where Are You Going?', the two-volume account of my Indian pilgrimage. The series has been completed, but the entire sequence can be listened to or downloaded via: http://whereareyougoing.podbean.com
Also freely available is an audiobook, version of the meditation primer, Meditation: an Outline here: https://www.cittaviveka.org/audiobook
Meanwhile, this page will give you access to an audio version of the 'daily life de-stresser' Clarity and Calm. https://www.cittaviveka.org/clarity-and-calm-audiobook
***
An ongoing collection of guided meditations are also available for free on the Insight Timer app. insighttimer.com/ajahnsucitto
Here is a link to an interview on Climate and Social Change conducted in March 2016: Interview on Climate and Social Change
***
A sample of other talks is provided below:
From the Forest Sangha website: https://forestsangha.org/teachings/audio/speakers/ajahn-sucitto?language=English