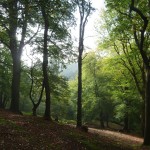 This site is a hub. It offers access to written teachings by Ajahn Sucitto (me) and information as to upcoming teaching venues; also there are links to where you can obtain audio talks and books, and connect to websites where more of my material, and that of my friends and colleagues, can be found. New articles and books get added from time to time as they are produced.
I am a Buddhist monk (bhikkhu). I entered monastic life in 1975 in Thailand, but since 1978 I've been based in Britain. I spent fourteen years training under Ajahn Sumedho, the senior Western disciple of Ajahn Chah, and so I'm part of that lineage of direct practice. The lineage has an umbrella website www:forestsangha.org. I am based at Cittaviveka Monastery in Chithurst, West Sussex, near Petersfield in southern England (www.cittaviveka.org). I'll be at Cittaviveka most of 2020 – although travelling here and there in the UK.  I expect to spend much of 2021 in North America, with a longish break from teaching duties to allow a period of self-retreat.
A recent  addition to this site is an audio version of 'Where Are You Going', the account of the Indian pilgrimage I undertook with Nick Scott in 1990-91. Initially this is being delivered in  serial form on a weekly basis via a podcast http://whereareyougoing.podbean.com . If you click on this link you can subscribe to this for free.
A more comprehensively updated way to stay in touch with my teachings is via Dhamma Tracks – please see below.  It is a weekly (so far) mail out to subscribers that offers a talk, a guided meditation, an article or quoted passage – and notification of upcoming teaching occasions via video-link, i.e. Zoom.  Dhamma Tracks is free (of course)  and you can easily unsubscribe from it.
Dhamma Tracks
by Ajahn Sucitto
Words, images and connections that may help you stay on track with Dhamma.